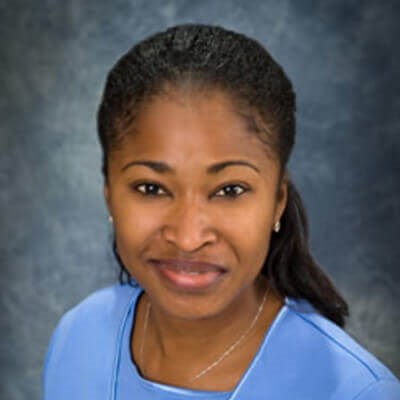 Dr. Daenya Edwards is skilled in all areas of dentistry to provide a wide array of treatments to Hartford County residents. Well-known for her excellent chairside manner, Dr. Edwards ensures the best possible dental care for each of her patients. Her knowledge of advanced dental technology and techniques also allows her to provide innovative and more effective treatment options.
With skill and expertise, Dr. Edwards performs an array of orthodontic treatments at Rosenberg Orthodontics. For specific cases, she provides corrective jaw surgery prior to an orthodontic treatment in order to improve a patient's bite and prevent future problems. Dr. Edwards also offers traditional metal braces, Invisalign, clear ceramic braces, mouth guards, and surgical orthodontic solutions.
Dr. Edwards earned her Bachelor of Science from McMaster University in Hamilton, Ontario. She received her doctorate of dental medicine from the University of Connecticut, where she was the recipient of the Class of 2004 Oral Radiology and Oral Medicine Awards. Dr. Edwards received her certificate in orthodontics in 2006 from Virginia Commonwealth University in Richmond, VA and completed a Master of Science in dentistry.
Born in Kingston, Jamaica but raised in Toronto, Canada, Dr. Edwards now resides in Middletown, CT. She enjoys reading, traveling, gardening, and DIY home projects. Her two young children and two bulldogs keep her laughing.
Reviews
"Rosenberg Orthodontics is phenomenal! My daughter had a very tough mouth with root absorption, permanent teeth that were not coming down, and (the biggest issue) missing teeth. They (Dr. Edwards) gave her a beautiful smile!!! Thank you from the bottom of this mother's heart for helping her to smile! We love you!"
H.H.
Facebook
"Dr. Edwards, Charlene, and Amanda did an amazing job of making a 43-year-old woman feel comfortable getting her braces on! I did not feel out-of-place being an "adult" in this practice. I look forward to my future visits, and most importantly, the end result!"
C.L.
Facebook
"Great experience (for having braces). My son recently completed his treatment and we are very pleased with the results. Over the course of the three years of appointments, the doctors and staff were absolutely wonderful. Always friendly and professional. Dr. Rosenberg himself would see my son's progress. It was great. The experience was pricey, but I'm glad we did it - both for the beautiful smile my son now has and the wonderful experience we had at Rosenberg Orthodontics. At one point, they did have some obnoxious lady at the front desk who made a snarky comment about a payment issue I had (my HSA deposit hadn't posted) but I haven't seen her for a year so she may no longer be an employee. Other than that, the professional and courteous service was consistent. Thank you to Dr. Rosenberg, Dr. Edwards and all the staff (thank you, Krista)!!! Keep up the great work! Your direct efforts improve the lives of many :)"
C.B.
Google